SpacePark360: Infinity
The fastest fulldome show continues with 
SpacePark360: Infinity!
  With 9 all new rides and over 40 minutes of customizable fulldome content, 
SpacePark360: Infinity 
brings incredible value to your dome.  A
t the Tellus Museum of Science in Catersville, Georgia it opned to great reviews.  " The rides look and sound great. They look awesome in our dome." David Dundee - Astronomy Program Manager, Tellus Science Museum.  License a single ride and build a library of rides over time, or license the full 9-ride show!  
Below you can check out web resolution previews of the Infinity rides.  Once again we have two awesome soundtracks from two tallented musicians, Geodesium and Maggie Smith.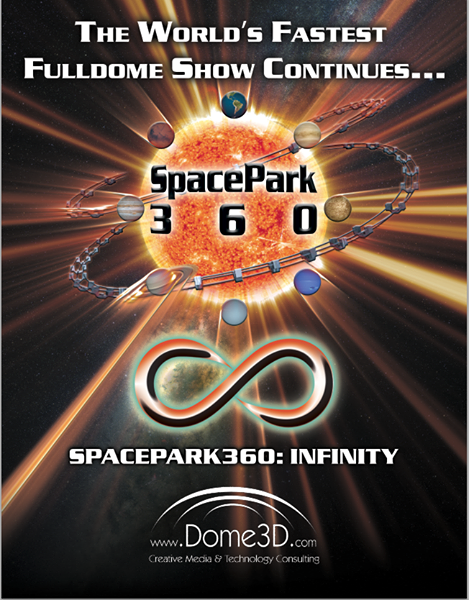 Mark Petersen has

created an all new Geodesium

sountrack that "transcends the ethereal planetarium space music sound he's best known for; these tracks are more like an audio

 

Maggie Smith Kühn, along with producer Will Wheeler, has developed a brand new album to accompany the new Infinity rides!

Maggie rocks out on nine new tunes which will be made availble on CD soon.

Check out a preview here.